Why study marketing?
If you choose marketing as your career, there are a huge number of opportunities and also most in-demand jobs in the business world. Marketing will allow you to connect with a lot of consumers, you can design your own skills, knowledge in such a way that will help to grow as an individual, grow your company, help in better promotion and branding. Read further to know about some of the best undergraduate business marketing colleges in the USA.
Marketing helps you to target right audience using right resources, reach large audience, scales the business very fast, can be cost effective in terms of digital marketing, reliable in both traditional and digital marketing
There are several scope of marketing –
-Product and services
-Market Research
-Distribution channels and Physical distribution
-Promotional decisions and pricing decision
-Analysis and feedback from customer
There are several courses in Marketing that you can undertake:
1) Branding
2) Consumer Affairs
3) Digital Marketing
4) Luxury Marketing
5) Marketing Management
6) Marketing Research
7) Strategic Marketing
University of Pennsylvania
The University of Pennsylvania is a private university in Philadelphia, PA and was founded in 1740, around 279 years ago by the founder Benjamin Franklin. The current academic staff is around 4790 with undergraduate students of 11000 and post graduates around 12000. The total area of campus is 1085 acres. The marketing school is named as Wharton school is one of the best schools for undergraduate and the program is offered by the department named as Marketing Concentration. Here the school offers a dual concentration of Marketing and Communication. The school also has a course in Marketing and operation management, Retailing, Consumer behavior. The total cost for undergraduate program is $201049, Fees including health insurance – $24572, Housing and dining – $22146. The school also provides several scholarships to students to study or research there.
University of William and Mary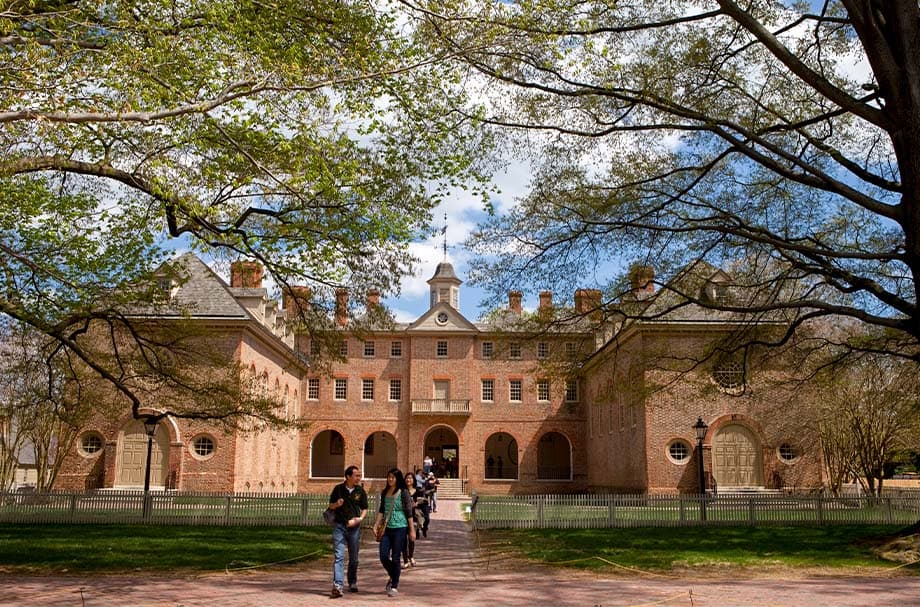 The University of William and Mary, Williamsburg, VA founded in 1693 by King William III and Queen Mary II. It is one of the oldest institution in the United States. The academic staff is around 738 full-time and 183 part-time with undergraduate students 6377. The campus has a total of 1200 acres. The curriculum includes 12 credits courses of Marketing and this credit focuses mainly on Marketing, Strategies, Advertisement, Decision theory, Marketing in digital world and consumer behavior. The fee structure is around 46854 USD
University of Miami
The University of Miami is a Private university in Coral Gables Florida and was founded in 1925 by President Julio Frenk with academic staff of 3226, administrative staff of 13,620 and students for undergraduate 11090.
The school of Marketing and communication. The Educational objective of the Marketing department is to provide the right resources for their professional development in domestic and world business. The primary goals of the Department of Marketing is to conduct marketing research, Imparting marketing knowledge to students, Focus on Critical thinking.
The program of Marketing offers about Product and Services, Global competition in marketing, planning and implementing marketing strategy, online marketing , Understanding and analysis of consumer .The fee structure is approximate to 45700USD.
University of Georgia
The University of Georgia with its campus in Athens, Georgia founded in 1785, one of the oldest universities in the US. It was founded by president Jere W Morehead. The university has 762 total acres. The Marketing majors at the university of Georgia is future oriented. Students can take courses in Consumer behavior, Marketing Research and Strategy, Social media, Promotion, Advertising, Digital Marketing, Sales Management.
The Purpose of Marketing major is to provide students with basic understanding of marketing and its vital role in society. It also has Summer or part time involvement in marketing activities. The department has several scholarship opportunities. The school also gives opportunity for students to gain their valuable internship in their own chosen fields. The fee structure is Local Tuition 12,080 USD, Domestic Tuition 31,120 USD.
University of Maryland
University of Maryland, founded in 1856 is the largest university in the state as well as the Washington metropolitan area. The total number of students is 30,762 for undergraduates with 1340 acres of campus.
There are several types of career available to Marketing Major. This includes Sales, Advertisement, Retail, Product and Service management and Market Research. There are also many marketing electives along with the marketing courses which include Consumer analysis, Research and Marketing Strategy.
School mainly focuses on Critical thinking, Ideas contribution, motivation to achieve goals, Oral presentations, Analyze, Consumer behavior concepts, Tools and techniques for marketing. The Local tuition fees are approx.10,770 USD; Domestic tuition fees are approx. 36,891 USD.
University of Washington
University of Washington is the one of the oldest universities in Seattle, Washington on the west coast, Founded in 1861 by president Ana Mari Cauce. The total number of students for undergraduates are 31,041.
The school of marketing has 192 bachelor's degrees in marketing. Because of this the school has 56 rank out of all the colleges which offer the degree. Students can also learn using the scholarship. The school focuses on individual and team building, leadership skills which might help students later in the field of marketing. The local tuition fees 11,465 USD and Domestic tuition fees is 38,166 USD.
University of Florida
The University of Florida founded in 1853 and operated on its Gainesville campus since 1906. The total number of undergraduate students is 37,874. The marketing department of the university focuses on recognized leaders in the discipline of marketing.
There are several sub courses and major courses in marketing as a specialization which include detail focus on Understanding the practice of marketing, research, online promotion and many more depending upon what courses the student demands for.
The Local tuition fees -6,381 USD, Domestic – 28,659 USD.
University of Wisconsin –Madison
The University of Wisconsin is a public research university in Madison, founded in 1848. It was a public university and remains the oldest public university in the state.
The university is situated in 933-acre land. It has 30,361 undergraduate students. The average cost is 10,725 USD. It has several programs for undergraduates along with the best and vast course pattern for marketing communication and management
The course material is based on critical thinking, practical work on fields of management and marketing along with the new trends and techniques for growing social marketing skills.
Conclusion
These are the several best colleges and programs for students to grow as a an individual, to know what is the best specialization in marketing in terms of what the student is interested in.
These are some colleges which actually look at each and every student, their growth progress in academic and extra activities so that the student can grow in each and every field.
These were some of the Best undergraduate business marketing colleges in the USA.