If you are a writer, especially an independent writer, then you know that constantly coming up with interesting ideas can be a very daunting task. A person can writer effortlessly if they practice it every day, you cannot lose your touch overwriting just like that. It is essential to be a consistent writer; if you are a content writer or a freelancer working towards building an online recognition, you need to be consistent and write on interesting topics. Therefore, the struggle in continuously coming up with new ideas to write about can be very unnerving.
We often come across many content creators coming up with similar issues; it is hard to brainstorm ideas, but as a writer it is a part of your job to simmer ideas regularly. You need to find out ways to stimulate your creative juice and constantly come up with engaging articles. So, we have something useful for you if you are struggling with the lack of ideas in your mind. Don't worry and keep searching.
Start writing about your expertise and interest-
If you are out of ideas, you must consider writing about your interests. We all have different interests and we know about different things, we can start searching for these ideas that align with your awareness. This would help you in many ways, firstly, you don't have to do extensive research about your topic at hand and secondly, you can write is very effortlessly.
While searching for new topics, you would also want to search your mind. You will definitely come across many things you want to write about, it could be anything that you're interested in or something you know a lot about. So, like if you are really passionate about wellness and fitness and have been following this topic for quite a while, then you can think of exploring this genre even further and write about it constructively.
Now, how you put together your ideas into words is completely dependent upon your ability to write. Similarly, if you love films and books, then you can even choose these topics for your articles. It is necessary for you to understand yourself and then search for your voice. Therefore, you need to keep thinking about your preference and interest to stimulate more ideas. This is the first process to get your content ideas and it highly works. Now, all you need to do is write carefully and make your articles fun to read.
Find your voice and your Target audience-
Everyone wants to be popular digitally and for doing so you need to curate your target audience. For doing that, it is necessary to know your consumers and their needs. Now, you need to focus on how you can keep engaging your particular target audience which would attract more people belonging to that group.
There are plenty of pages online that functions on a similar way, you must follow these pages and try to analyze their content. This would give you a clear idea how they engage their audience and deliver different contents.
It is necessary to find your voice and your interests, it is important that you follow the pages that are creating similar contents as you and take inspirations from them. Once you become the part of that circle, you can come up with diverse unique ideas for your target audience and grow your community.
You must focus on delivering highly-engaging contents, something that is in demand and also mix it with intellectual elements. The delivery of your contents makes a huge difference and to be able to do that effectively, it is essential to develop a community and follow similar pages.
Try to organize your ideas-
Speaking from personal experience, there has been numerous instances where I came up with a really interesting topic and later it slipped from my consciousness because I forgot to jot it down. Always try to organize your thoughts, no matter what the time and situation it is.
Our mind works in mysterious ways and that's why it is probable to randomly come up with an idea. You must make sure to note it down somewhere, so that it doesn't get lost. Also, you must keep something handy where you can note down your ideas at any point of the day. You must allot a specific notebook for this job or you must save it on a specific folder in your phone.
Once you plan your content, all you need to do is write it strategically.
Take time for content research-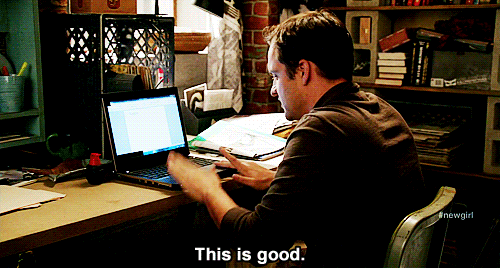 As a writer, it is essential to keep your creative juice alive. Thus, you need to engage yourself continuously with the source of your ideas. It is essential to be a conscious consumer of reading materials if you are a writer. Make sure that you allot a good amount of time only reading, and seeking inspiration and ideas.