Journalism is a study of both theoretical and practical application of journalistic concepts. Studying journalism can open up many creative career paths for you. Some of the paths you can take after your journalism course are News Editor, Newspaper Editor, TV reporter, field reporter, columnist, ad-writer, creative writer, etc. The program of Journalism is many times combined with mass communication studies. A journalism program can make you an excellent communicator and enhance many skills such as critical thinking, interviewing skills, and writing skills.
In your three or four years of the journalism program, you learn subjects and skills such as researching, investigating, interviewing, writing, video editing, content writing, etc. You also get to intern with many reputed media outlets of the country if you pursue journalism from a renowned university/college. This article will talk about the best colleges in Canada to study journalism.
Carleton University
The school of journalism and communication at Carleton University offers various programs in the field of journalism Some of the programs they offer are a Bachelor of Communication in Media studies program and a Master of Arts in Communication program and a Ph.D. in Communication program. The journalism school is 75 years old and was established in 1945. The programs are designed to teach you three main skills that are Journalism, Communication, Media Production&Design. 
English proficiency is a requirement for international students. The yearly fee for international students can be around 28000 to 35000 Candian Dollars. The fee will depend upon the program you choose.
University of British Columbia
The UBC Graduate School of Journalism at the University of British Columbia only offers master programs in journalism. They offer a Master's in journalism degree. The program aims to equip you with all forms of media out there. The program will help you develop a deeper understanding of print media, television media, online media, and radio media.  The university has a high placement rate of 86%.
The yearly tuition for an international student is 27500 Canadian Dollars. English proficiency and IELTS score of 6.5 is the minimum requirement for international student. These requirements might vary as the admission is competitive. The university also offers need-based and merit-based financial support to its students.
Concordia University
 The Department of Journalism at Concordia University offers undergraduate and graduate programs. They offer Major in Journalism which is a BA program and Digital Innovation in Journal studies which is a MA program. Some of their alumni are working as journalists, editors, reporters, and writers at the best media outlets of Canada.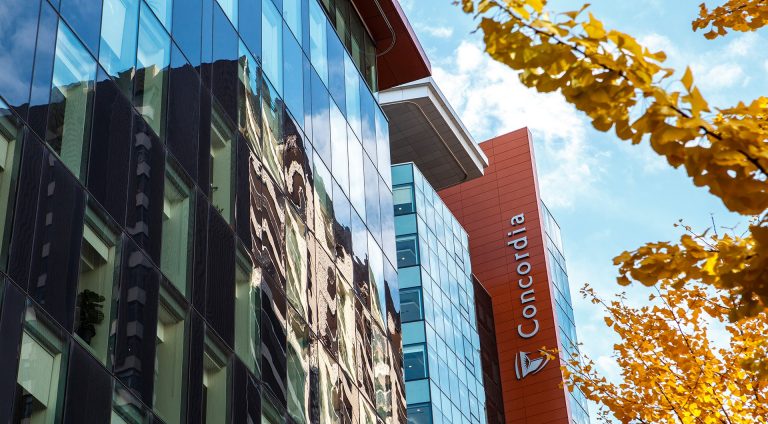 They offer various scholarships and awards to students based on need and merit. You can calculate your tuition fee by using their tuition fee calculator. The tuition fee is dependent upon your program, country of residence, and credits you want to complete. The yearly tuition fees for an international student can be around 20000 Canadian Dollars.
University of Western Ontario (UWO)
The Faculty of Information & Media Studies at UWO offers undergraduate, graduate, diploma & certification programs in media studies, journalism & communication, Information science, etc. Some of the interesting graduate courses it offers are Master of Arts in popular music & culture, Master of Media in Journalism & Communication, and Master of Health information science. These industry-specific programs are designed to make you ready for a great career in the industry you like.  The courses are inter-disciplinary and not focused on a single discipline.
The yearly tuition fee for international students in around 36000 Candian Dollars per year. A student can get need-based financial from the university. Before the admission, the student can also calculate the tentative fee they will have to pay by contacting the financial aid department. Check their website for more details on the financial aid policy.
Centennial College (University of Toronto)
The school of communications, media, and design offers various programs in journalism. It offers Bachelor in information technology, Masters in Television writing, certificate programs in the advertisement field. It has a range of full time and part-time programs for graduates, undergraduates, and even higher secondary school students. 
The tuition for an international student is around 15000 Canadian Dollars. The fee is relatively lesser as it is a college, not a university. However, journalism programs offered are recognized worldwide. The fee is also dependent upon the courses/programs yo pursue. The college has offered $3 Million Scholarships to its students till now and it is committed to affordability.
Ryerson University
The School of Journalism at Ryerson University offers undergraduate and graduate studies in the field of journalism. They offer BJourn (bachelor of journalism) and MJourn (Master of Journalism) program to its students.  You will get hands-on experience with industry experts in this course. The courses are designed to make you ready for your next job as a journalist, writer, or editor. Ryerson has a partnership with many big media outlets to help you get hands-on experience on different projects.
The yearly tuition fee for international student range between 28000 to 36000 Canadian Dollars. The fee depends upon the program and the different courses or classes you take to complete that program. They offer loans, scholarships, and grants to help you expense your education.
Also Read: