"Commerce links all mankind in one common brotherhood of mutual dependence and interest." – James A. Garfield.
Why Commerce stream?
Commerce is quite a popular stream now a days, it is a perfect stream for students who love dealing with math, accounts, budgeting, economics and business organization as well as management etc. An undergraduate degree in commerce is as valuable as any other degree. Commerce degree deals with various personalized courses as well. There are many branches in commerce from which you can make a career out of.
Why is commerce important?
Commerce is very important part of our lives as it takes care of all the goods transports, banking process, business, accounting etc. which we need for a proper function of the world. Without commerce there wouldn't be a proper building up of any country. Commerce is a stream which in future allows many employment opportunities, it also provides e-commerce services, simple trading maybe within the country or internationally. Commerce concerns itself with commodity exchanging and buying as well selling concepts. This stream wraps around in the needs and wants of consumer and also increases the standard of living or quality of life of people.
Benefits-
Including the benefits mentioned before commerce still has many more other beneficial qualities to it. Commerce focuses on and takes care of the national income, helps in the development of the underdeveloped countries, it also supports a country in their times of emergencies. It puts pressure on increasing international trades in order to expand many other things like- Communication, advertising, insurance and banking etc. Commerce is the base for a healthy functioning world, and it works just perfectly with the science as well as arts stream. So, these are some of the other benefits of the commerce stream which allows us to improve everything around us in terms of commerce.
Courses-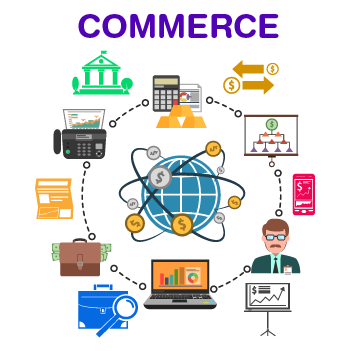 A Bachelor's degree in commerce (B. Com) is an undergraduate degree, the duration of the course or program is a 3 year long. This course has 6 semesters, 2 for each year and you are allowed to choose your subjects. This course can be studied as a distance education. There's also CA (Chartered Accountant) which student opt for in commerce which a really difficult exams to crack. Students can get admission in any abroad universities if they want to study outside of India, students do get a wider scope of opportunity when they study in different culture. Student can study further in this field if they want to, they can do a Master's degree or even a Ph.D. (Doctorate).
Eligibility-
To be eligible to study this course you need to be 12th pass with minimum 50% to 60% from any recognized boards. Students all to pass their entrance exam their- DUET, AMU Entrance exam or Christ University Entrance Exam. Students with a background in Math's, English and Economics are preferred more. There no known age limit for this course so anyone can study this course. The course fee is from INR 20,000 up to 60,000.
University-
There are some great commerce universities in India as well as in abroad- In Delhi, SRCC- Sri Ram College of Commerce
In Mumbai, St. Xavier's College
In Ahmedabad, HK Commerce College And many more other top universities are there. Career- There is a wide scope career scope in this field, you can work in or as- Accountant, Financial Analyst, Financial consultant, Accounts manager, Tax consultant, Business consultant, economist, finance, stockbroking and Business executive etc.
There is greater internship as well as other career options in India as well as in broad. Students also get directly selected in their last year depending on their performance and internship experience. You can work in banks, in any company or in any top firms.  
Salary-
Salary usually depends on the persons experience, qualifications and their demographic. The basic pay for the new comers or freshers is INR 2 Lakhs to 6 Lakhs, also depends on your position in a company or firm. In this field a tax consultant earns the most, they earn about from INR 4 Lakh to 7 Lakh. To earn such amount of salary work is also difficult but working hard does pay off. Conclusion-
In short,
commerce is a great educational as well as career field which students should opt for, there's a bright future for commerce students as this a field which isn't going to end anytime soon, and it is needed to run a functional country. Commerce is truly one of the difficult in all aspects, educational and career wise. But these challenging options does make life interesting and lively. You also learn the basic of how the world works in a different economic perspective.  
Also read,
8 majors to do in B.A. after 12th