Though Singapore is a small country, it has got a good reputation for world-class education in Medicine and research in the world. From learning with innovative teaching methodologies to being trained under experienced faculty, medicine is considered to be a top discipline in Singapore.
You will be trained under experienced faculty and mentored at world-leading Hospitals
Duke-NUS has lead partnerships with the world's largest healthcare group in the country Singapore health services which are considered to be a great benefit for medical students at the institution.
Students are guided under experienced faculty which helps them to improve their capabilities, problem-solving and entrepreneurial mindset.
You are exposed to innovative teaching methadologies
Dukes-NUS medical school attracts many students fro all around the world. and offers a rigorous medical curriculum that includes innovative teaching aids that allow the student to learn and think beyond rote memorization. There is a lot of self-learning involved.
You will have an Education experience that goes beyond the classroom
Studying medicine as a career is equally rewarding as well as challenging. The skills and the experience you gain during your study period is highly transferable which allows you to learn and volunteer in different sectors and industries.
You will work and learn alongside peers from a diverse background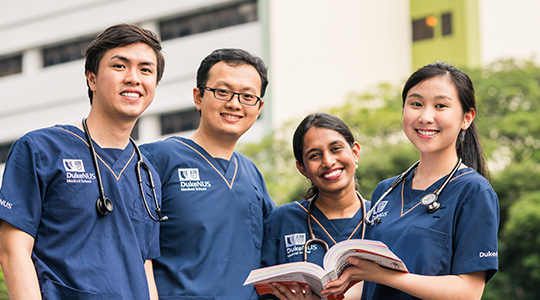 Duke-NUS students come from diverse, academic and mid-career backgrounds. Students will get to learn from others and will be able to live with the people of different diversity.
Best of east meets west in Medical Education
Singapore has exceptional standard of education and is the leader of higher education in Asia and around the world. Most of the top institution has looked to Singapore as the ideal location for setting up their own international campuses.
Singapore is world leader in research
Singapore is ranked first in IMD world competitive rankings in 2019, second in world economic forums in 2018, and fifth in global innovation index in 2018. Global reports continue to recognize Singapore as the world leader in research and innovations.
Singapore boasts high quality of life
Singapore offers high quality of life thats hard to rival, making it worthy as the 20th best student city in the world according u the student ranking in 2019. Renowned for its inclusive nature and experience, Singapore is considered to be melting pot of culture, religion and history.
Also read