VELLORE INSTITUTE OF TECHNOLOGY (VIT)
VIT is a private university located in Vellore, Tamil Nadu, India. Founded in 1984, as Vellore Engineering College, by G. Viswanathan, the institution offers 20 undergraduate, 34 postgraduate, four integrated and four research programs. It has campuses in Vellore, Amravati, Bhopal and Chennai.
Eco-friendly in design and equipped with cutting-edge infrastructure, they provide a favorable atmosphere for learning and living.VIT has developed a student-centered success culture and ensures high quality learning, teaching and research experiences. The university offers a range of world class extracurricular facilities and support to students, as well as a strong Alumni Network. Three VIT subjects are within the top 550 QS World University Rankings by Subject: CS & IT; Electrical & Electronics; Chemistry.
AMITY UNIVERSITY
Amity University,Noida is a private research university located in Noida, India. It was established in 2005 by an Act of the State Legislature of Uttar Pradesh. The university is recognized by UGC under Section 22 of the UGC Act and accredited by the NAAC with grade 'A+'. Amity University offers courses on campus and through distance mode, in a number of fields of study at undergraduate, postgraduate, and doctoral levels. The university is a part of Amity education group and has campuses worldwide.
Amity University offers over 230 programmes under more than 40 degrees. From certificate courses to postgraduate diploma to doctoral to integrated courses, one can never run out of options to choose from the vast course catalogue of the university. Be it the School of Fashion Technology or Information Technology, different schools or departments of the university have been ranked high by reputed media houses like India Today and Outlook. The world-class infrastructure includes air-conditioned amphitheatre style classrooms, libraries equipped with more than 1,00,000 titles, national and international journals, periodicals, research materials, CD-ROMS, etc. The hi-tech laboratories of the university provide budding professionals with ideal training grounds.
LOVELY PROFESSIONAL UNIVERSITY (LPU)
LPU is a Private University situated on the outskirts of Jalandhar, Punjab. It is the largest single-campus university in India, with more than 30,000 students, over 4000 faculties and staff, offering more than 200 programs. Recognized by UGC and is also a member of AIU.LPU was established in 2005 at Jalandhar, Punjab. This private University has over 20 schools that offer various diploma, UG, PG and doctoral courses such as BTech, MBA, BSc, BBA, BA, BArch, BDes, MTech, LLB and MFA amid others. Approved by UCG and a member of AIU, LPU has received the 'Best Private University Award' by ASSOCHAM in 2017.
Being one of the largest single-campus universities in India with over 30,000 students and more than 4,000 faculty and staff members, LPU currently offers over 300 programmes to the students. The campus of LPU houses a central library, a mac lab, an aviation lab, cultural clubs, a hospital, hostels, a gymnasium, an indoor stadium, outdoor playgrounds, ATMs, over 300 eating kiosks, and University mall.
BIRLA INSTITUTE OF TECHNOLOGY AND SCIENCE, PILANI
Birla Institute of Technology and Science (BITS), Pilani is counted amongst the country's most prestigious private higher education institutes. This university of international standing traces its origin to 1901 when a small school 'Pathshala' was built in Pilani.
BITS was established as an institute in 1964 with late Dr G.D. Birla as its founding chairman. Dr G.D. Birla was an eminent industrialist and a strong participant of the Indian freedom struggle. The main and the most reputed BITS campus is in Pilani, however, the institution has other world-class campuses in Hyderabad, Goa and Dubai. At the undergraduate level, The institute offers 3 Integrated First Degree Programs such as Bachelor in Engineering (BE) in 7 specializations, Bachelor in Pharmacy (B.Pharm.) as well as Master of Science (M.Sc) under 6 specializations. Admission to these will be done on the basis of a Computer-based Online Test (BITSAT) conducted by the institute itself.Under PG level, BITS Pilani offers programs such as M.E. with 15 specializations and M.Pharm with 3 specializations. Aside from these courses, the institute also offers an MBA.
MANIPAL ACADEMY OF HIGHER EDUCATION
Manipal Academy of Higher Education (MAHE), Karnataka, formerly known as Manipal University, was established in 1953. It is one of India's leading institutes with its presence all across the globe. MAHE offers various UG, PG and Research courses like B.Tech, MCA, MD, B.Arch, and many more in the fields such as medical, architecture, dentistry, engineering, hospitality, management, etc. Admission is based on MET (Manipal Entrance Test) for a few courses which are conducted by the institute.
In addition to the main campus at Manipal, the institute also has following branch campuses such as Manipal University, Jaipur, Manipal University, Antigua, Manipal University, Mangalore, Manipal University, Sikkim, and more. Few of the famous alumnis of MAHE are Satya Nadella (CEO, Microsoft), Rajiv Suri (CEO, Nokia), Ishita Malviya (professional surfer) and Vikas Khanna (an Indian-origin, Michelin star chef).Manipal Academy of Higher Education is certified as an ISO 14001:2004 organization in 2007. MAHE is a globally engaged institution with active partnership with more than 220 leading universities around the world.
KALINGA INSTITUTE OF INDUSTRIAL TECHNOLOGY
Founded in 1992 as an Industrial Training Institute, KIIT – Kalinga Institute of Industrial Technology received the status of the university in 2004 and renamed KIIT University. Offering academic facilities to around 27000 students, the university offers about a hundred programmes in a variety of fields, including Technology, Management and Medicine. The institute has received an 'A' ranking by the National Assessment and Accreditation Council (NAAC).
Globally, in 2019, the institute was placed in the 291-300 range given by the QS University Rankings. It has got 301+ rank in the Young University Rankings of Times Higher Education in 2019. Also, KIIT was placed at 48th position by the National Institutional Ranking Framework in 2019 among other engineering colleges. Programs offered are B.Tech, B. Sc Nursing, Biotechnology, BA LLB, Bachelor of Architecture, BBA, BCA, B.Sc, Bachelor in Film and Television Production, M. Tech, MCA, M.Sc., LLM, PhD, Master of Hospital Administration, Master of Public Health.
SYMBIOSIS INTERNATIONAL
Symbiosis International (Deemed University) or SIU offers a number of programmes at Under Graduate (UG), Post Graduate (PG), Doctoral and Diploma levels in eight streams including Law, Management, Computer Studies, Health Sciences, Media & Communication, Humanities & Social Sciences, Engineering, and Architecture & Design. Established in 1956, SIU offers these courses through 43 constituent institutes located in Pune, Nashik, Nagpur, Bangalore, Hyderabad and NoidaNoidaand offers Law, Management, Computer Studies, Media and Communication, Humanities and Social Sciences, Engineering, Health Sciences and Architecture and Design.
SIU is located on 300-acre campus, the Symbiosis Knowledge Village, on the outskirts of Pune. The university was granted 'Deemed To Be' status by the Ministry of Human Resource Development in 2002. The university is awarded the Category-I status by UGC and an 'A' grade by NAAC with a score 3.58 on 4.The only Indian university to have received the Asia Pacific Quality Label, SIU is ranked 56th among best universities in India in by NIRF Ranking 2019 and 109th in BRICS QS World Ranking 2019.
JAYPEE INSTITUTE OF INFORMATION TECHNOLOGY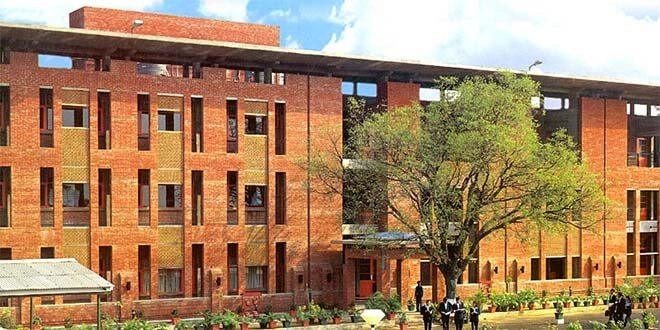 Jaypee Institute of Information Technology, also known as JIIT is a private universities set up by the Jaypee Group of Companies in Noida, Uttar Pradesh. It was established in 2001 as a technical institute later declared as a "Deemed to be University" in 2004 by UGC. JIIT offers undergraduate and postgraduate courses such as B.tech, M.tech, MBA and PHD. JIIT Campus is spread over 6,50,000 sq. feet area covering Academic Block, Business School cum Research Block, and Hostels. The campus has 6 JIIT hostels, 3 for boys and 3 for girls. JIIT is recognized by University Grant Commission (UGC).
JIIT Noida is an integral part of Jaypee Group pf Companies that currently provides education across all spectrum of the learning curve through 34 schools, five ITI's, 1 Polytechnic, Advanced Skill Development Centre, PG college, B.Ed college, respectively and four universities catering to over 35,000 students.was ranked at 80th position among 'Top Engineering Institutes' by NIRF 2019. The deemed University has highly experienced faculty with an average of 12 years of academic experience.
Also read,
Top 5 Canadian Universities for Masters in Tourism(Opens in a new browser tab)
Top 8 benefits of studying Liberal Arts in your college(Opens in a new browser tab)