7 international universities offering online courses that will benefit you in the long run..
Disclaimer: Bearing in mind the current health crisis befalling the city and the world at large, we're tweaking our content policy and recommendations. Stay positive, keep hygiene levels up and don't fall prey to panic and misinformation.
To all you lovely readers, we hope you're home safe and keeping busy. Given the pandemic, we even know how some of you might be getting restless, but fear not as we are here with our list of international universities that are offering some unique and interesting online courses that y'all must check out to make the most out of your free time – 'cause a lil knowledge never hurt anyone, right?!
1. PENN STATE
Pennsylvania State University—University Park is a public institution that was founded in 1855. It has a total undergraduate enrollment of 40,363, its setting is city, and the campus size is 7,958 acres.The fields and sub-fields in which Penn State ranked in the top ten are materials (1st), psychology (2nd), mechanical engineering (3rd), sociology (3rd), electrical engineering (4th), total engineering (5th), aerospace engineering (8th), computer science (8th), agricultural sciences (8th), civil engineering (9th), atmospheric sciences (9th), and earth sciences (9th). In eleven of these fields, moreover, the university has repeated top-ten status every year since at least 2008.
This university offers 100+ graduate degrees, undergraduate degrees and other certification courses. The disciplines they offer include Business, Education, Turfgrass, Nursing, Homeland Security, Liberal Arts And Communication, Health And Family, Law And Public Policy, Technology, Sciences and Math. Check out their courses and enrol now at this illustrious university to make the most of your skills and talent!
2. HARVARD UNIVERSITY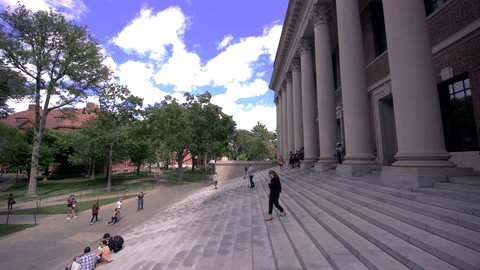 Harvard is the oldest higher education institution in the U.S. The Ivy League school is located in Cambridge, Massachusetts.Online learning website edX hosts Harvard's free courses. These self-paced courses are free on an audit basis, but a certificate can be awarded for a fee. Each course will provide information on how much time is required, the difficultly level, and information on instructors.Harvard University is devoted to excellence in teaching, learning, and research, and to developing leaders in many disciplines who make a difference globally. Harvard faculty are engaged with teaching and research to push the boundaries of human knowledge. The University has twelve degree-granting Schools in addition to the Radcliffe Institute for Advanced Study.
Folks, if you've dreamt of studying at Harvard but somehow couldn't make it come true, now is your chance! You can now devote your quarantine time towards completing an online certification course from Harvard that is sure to advance your skills and increase your chances of scoring lucrative job opportunities.
3. STANFORD UNIVERSITY
Stanford University, located near the Bay Area in California, is a top school often known for its proximity to Silicon Valley. With top companies such as Apple, Google, Facebook, Wells Fargo, Visa, and Chevron surrounding the school, the institution both produces and attracts top talent.Since 2011, Stanford Online has been the university's online collection of courses.According to its website, "…Stanford offers more than 100 unique, free online courses or MOOCs (Massive Open Online Courses) in service to the world, for lifelong learning and self-enrichment." Free college classes can be found on its website in a wide range of topic areas that span humanities, medicine, engineering, and more.
Stratford University aims to prepare students with its quality educational programs for fulfilling careers. You can choose from an Associate's Degree like Hotel & Restaurant And Business Administration, Bachelor's Degree in Accounting, IT, Health Sciences, Healthcare Administration, Hospitality Management and Master's Degree In Accounting, Cybersecurity, Digital Forensics, Software Engineering and more.
4.UNIVERSITY OF FLORIDA
University of Florida is a public institution that was founded in 1853. It has a total undergraduate enrollment of 35,491, its setting is suburban, and the campus size is 2,000 acres. Students at UF can choose from 100 undergraduate and 200 graduate degree programs, some of the most popular of which are business, marketing and biological and biomedical sciences. Students also participate in experiential learning opportunities. The university provides a variety of scholarships and grants, including the Florida Bright Futures Scholarship, a state-funded program for high-achieving high school students with awards up to full tuition. In addition to over 1,100 organizations on campus, students pursue numerous outdoor recreational activities.
At the University Of Florida, you may choose from undergraduate and bachelor's programs, certificate programs, master's, specialist, doctorate and international programs. The online certificate courses are available for both undergraduate and graduate students, and the duration differs as per the course.
5. UNIVERSITY OF LEEDS
Founded in 1904, the University Of Leeds is one of the most prestigious universities in the world, which is committed to making a difference in people's lives through knowledge and education. From a wide range of short online courses to an online master's degree, they offer courses that will add great value to your CV.
The diverse range of FutureLearn courses developed by the University of Leeds will allow the exploration of new and different ways to provide online education. The University wants to reach a global audience, meeting the growing worldwide demand for access to higher education, so that the outstanding knowledge it creates can benefit a wider community. Academics at the University of Leeds lead pioneering research that addresses major global challenges, in areas such as energy, water and climate change, human health and wellbeing. The University works in interdisciplinary teams to find innovative solutions to global problems such as poverty, hunger and crime. It strengthens communities through its outreach and public engagement.
6. UNIVERSITY OF BATH
The University of Bath is a public university located in Bath, Somerset, United Kingdom.The University of Bath is known for excellence in teaching and research; a superb student experience; and providing outstanding preparation for the workplace. Widely regarded as a world-class university in a world heritage city, the University is ranked 6th in the Guardian University Guide 2020 and achieved Gold in the Teaching Excellence Framework. Approaching its 50th year, the University is well established as a nurturing environment for enterprising minds.
The University Of Bath offers online MSc courses with challenging, real-world content that will help you to further your career and equip you with practical knowledge. You can choose from Entrepreneurship Management and Innovation online MSc, Computer Science online MSc as well as Applied Economics (Banking and Financial markets) online MSc.
7. TRINITY COLLEGE DUBLIN
Founded in 1592, the University of Dublin, Trinity College, is located in the heart of the Irish capital.It operates through three faculties: Arts, Humanities and Social Sciences, the faculty of Engineering, Mathematics and Science, and the faculty of Health Sciences. Between them, they comprise 24 schools offering a wide range of degrees and courses to around 17,000 students.With over 100 college societies and 50 sports clubs, there is no lack of extra-curricular entertainment for students of the university.
Trinity College Dublin aims to reach its students across the globe through flexible academic courses. They've got online postgraduate courses, continuing professional development courses and several other free online courses. The duration of online postgraduate courses is one year and goes up as per the courses.
ALso read,
7 Things to Know About the University of Alberta in Canada(Opens in a new browser tab)
Best Canadian Universities for Humanities & Social Sciences(Opens in a new browser tab)