We all know how social media has left an impact on our lives. While the number of social media users increased extensively during the past few years, some of us also find ourselves completely exhausted after the increased screen time. If you do a Google search, it will give you a list of famous personalities who have quit social media and why they did it, which just proves that a lot of successful people try to minimize their screen time. This article aims to look into what social media is doing to our lives and how to use it strategically for our benefit.
Staying Connected
Despite the fact that lockdown had been lifted a while back, the expanded number of COVID-19 cases, and the ascent of casualty hazard in getting along with individuals, has truly made our lives difficult. As social creatures, people can't be totally disconnected from their social setting. We need to concede the way that we are related. We associate, express worry for one another, and share our considerations, sentiments, feelings, and stresses. This is the thing that makes us human.
The only tool to re-establish connection with the people we love and regain that sense of belongingness with other people, is social media. At the point when our emotional wellness is in question, we need to look for help through the methods accessible to us. Social Media has done a brilliant job of spreading emotional well-being and mindfulness which brought about the launch of numerous channels of help.
Time Consumption
We plan our day or decide to try something new or finish the work we have been procrastinating for a week, but instead, we find ourselves sending memes to our friends, or mindlessly liking posts, or chatting with friends, having completely lost our time and focus of the day. This happens with a lot of us when we spend a lot of time looking at the screen.
Social Media is a source of entertainment for many of us, but we should ensure that it doesn't turn into an addiction or fixation, taking away the time we can spend on other hobbies, studying, or learning something new. Also, the fast shift of focus from one app or notification or post, to another can have long-lasting impact on our natural attention span. Multi-tasking is not always efficient when using social media and working, which makes us bound to mess up.
There's a well-known proverb in English- "Time and tide wait for no man." It is important to know how we invest our time. Life is all about balance. Wasting away hours on social media only earns us a sense of guilt and at the end of the day, one only feels drained and low. Time management, Setting app timers, or using Focus Mode on our devices, are some simple steps that can help in re-gaining control over screen time, and creating a perfect balance.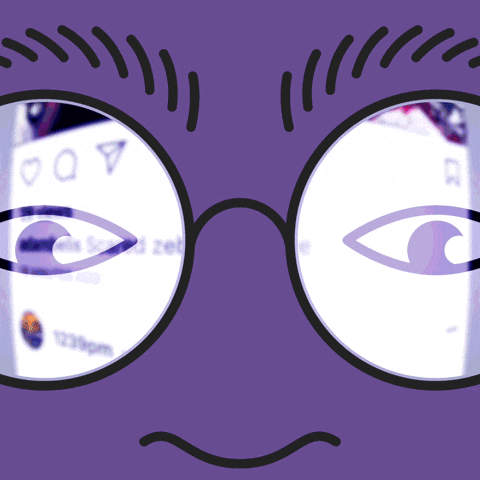 Social Media as a Source of Knowledge
Granted, Social Media is an efficient source of knowledge. But knowledge cannot always be found in chat boxes or on fan pages of our favourite celebrity. Social Media sometimes feeds us with useless data, while we are actually looking for something else. So, we have to be vigilant while using the same.
Many groups form out of passion towards a certain subject, skill, or art. We can always be a part of such groups to get updates in the discipline of our interest. This not only helps in self-improvement, but also leads us to spend our time doing and learning something productive. Several groups exist to help aspirants of several examinations. We can join them, and attempt solving questions together, and also discuss our doubts with our peers.
Most of the memes and posts that appear in our feed are useless, just providing us with the daily serotonin that is just about enough to make us lose track of time. Some posts can be also informative, thought-provoking, or act as a useful update on current events. Learning to filter out the useful from the useless is the need of the hour. Also, we have to keep in mind that all information cannot be authentic. Looking at the source and motivation of the information at hand, before blindly believing it, is very crucial. Nowadays there are several false claims and fake news which is created to suit specific propaganda, especially that is able to or aims at influencing our ideologies.
Effect on language skills
There are many abbreviations and shortcut words which are generation-specific. Most of us become used to replacing words, like using 'u' for 'you', use 'lol' for 'laughing out loud' – to indicate something funny, etc. Likely, such informal expressions can accidentally appear in your assignment papers or other formal settings.
So, when connecting with people or talking to them, we should avoid using such slang, and focus on using the right words and sentences, while paying attention to how people comment, react, and interact through texts, specific to each context. This approach will help you improve your communicative language skills. Social media is an excellent place to improve your vocabulary only if it is used in the right manner.
Mood swings
Of the multitude ways social media can be detrimental, the worst is its ability to induce envy. Social Media constantly shoves into our faces the upbeat lifestyle of influencers, their success stories, them having a good time on a Bali vacation and even what they cook, watch, eat, and wear each and every day.
It can create the urge to have everything that others have and earning likes and constant approval of others. This makes us want to participate in a race that doesn't exist. We forget the fact that almost everything on social media is pretentious. There is sometimes a wide disparity between what people show and what people feel.
The constant comparison of others' lives with our own is always pointless. It not only affects our self-worth, happiness, and joy but in extreme cases, it can even lead to depression. We have to be mindful of such traps. This might sound silly but one should be cautious of the reality that life cannot be as sweet and fun as depicted on the 'Gram'. We all have to be ready to face the highs and lows of our lives, which is unique for every individual.