OP Jindal Global University, as recent as last year, was honoured with the distinct title of 'Institution of Eminence', hence, it is now known as OP Jindal Global Institution of Eminence Deemed to be
University in India. But before you get intimidated by the jargon in its name, allow yourself to properly know more about the Institution and all the wonderful perks it offers.
Located in Haryana, OP Jindal Global is among India's topmost private universities and the title of 'Institution of Eminence' further allows it to have freedom over its administration, to bring on board a range of diverse faculty from all around the world and better yet, it promotes a safe space among students and teachers to have liberal, open-minded discussions and debates, unseen in most other Indian universities. And, since OP Jindal Global University is private, non-profit and a work of philanthropy by Jindal Group, it highly focuses on providing world-class resources and both, academic and industrial experience to its students to help them become the best professionals in their field. This article tries to cover reasons for why you must consider OP Jindal Global University as an extremely potent option for higher education in India.
Faculty is on par with international standards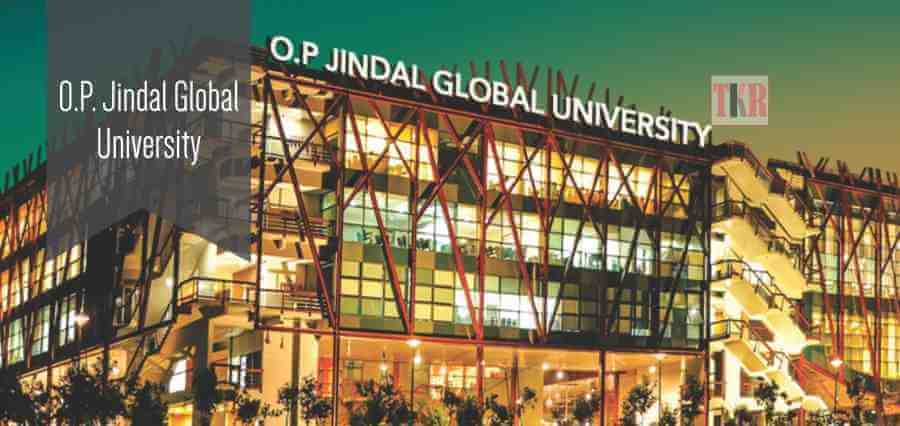 Among the foremost questions that arise in any student's mind while choosing universities for higher education is whether they provide excellent teaching staff, well we are here to tell you that the faculty at OP Jindal Global University not only includes learned professors from India, but in fact, from all over the world. Most teachers and professors, here, have doctorates and an immense industrial experience to aptly and holistically guide the students. From a former judge of Supreme Court of India, a Padma Shri awardee, former diplomats, foreign scholars too much more noteworthy personnel on their list of faculties have together contributed in making OP Jindal Global University as one of the best Law and Business schools in India.
What sets it apart from most other universities, is its fantastic 9:1 student-teacher ratio in the whole of Asia, which helps in fostering the students with utmost attention and guidance to go about in their academics as well as in career. The University draws its curriculum in a way that it creates an environment for students and teachers to engage in healthy discourse about relevant issues. Furthermore, unlike other Indian universities, its curriculum goes beyond the basic concepts to make the students understand the subject well enough to be industrially ready.
Facilitates students with modern infrastructure
Be it residential or non-residential students, OP Jindal Global University lets its students to enjoy a resourceful and magnificent campus. With centrally air-conditioned student hostels and buildings protected under CCTV cameras for 24 hours, the University accommodates its residential students with much amenities and security. OP Jindal Global University's campus, additionally, houses an Olympic size swimming pool, commercial playgrounds for various sports including soccer, volleyball, badminton, tennis, cricket and basketball. It also has banking and medical facilities. Thus, presenting all-around campus facilities no less than an international university.
Not to forget its magnificent library. The library at this University has about 48,000 volumes of books, research papers, and so on.
OP Jindal University Maintains a global presence
Being true to its name, OP Jindal Global University successfully maintains an extraordinary global presence. Widely known for its extensive list of foreign faculty members, it also indulges in student exchange programs – inviting students from universities all around the world to study in OP Jindal Global University. In order to encourage international engagement for it's own students, the University has been a part of multiple collaborations with reputed international universities, including, and not limited to, University of Oxford, Harvard, Cornell University, Nottingham Trent University, Stockholm University and so on.
OP Jindal Global University has a legacy of formidable alumni network especially of Law pass outs. Working in all kinds of esteemed firms and conglomerates, they pose as imperative and skilled mentors for current batch of students, thus embellishing the freshers' resumes with better experiences and skills than other universities' students.
Rigorous research-oriented University
OP Jindal Global University's vision is deeply rooted in research. With multiple research centers for various subjects has made it a futuristic university.
Conclusion
In conclusion, we would only say that there are hardly any reasons to not enrol in OP Jindal Global University. With as many as nine different schools covering specialization from Law to Business management, from Finance to Journalism and many more, the University maintains its status of being one if it's kind university in India. If you are confused, which is very normal, about whether you should or shouldn't enrol in OP Jindal Global University, then, well we hope this article not only answers you comprehensively but also convinces you that OP Jindal Global University is a great choice to pursue your higher education from.