Non-profit organizations (NGOs) functions independently of the government. They are non-profit and they focus on many relevant issues; NGOs are often called civil-societies that organized to aid different political and social purposes. There are numerous different types of NGO, each with its own directive. Non-profit organizations are primarily controlled by volunteer and funds. Furthermore, non-profit organizations have plenty social and political goals. Some goals may include- improving the natural environment, uplifting the disadvantaged, encouraging the adherence to human rights. Therefore, their goals cover a diverse range of issues.
Until a couple of years ago, involvement of the citizens of India with NGOs was very less. NGOs were only controlled by many foreign organizations, but now many aware and enthusiastic citizens are investing their time to work under NGOs. There is also an upsurge in youth's involvement with NGOs; it is seen that more and more people who are motivated to help their fellow citizens join ties with NGOs, or found their own NGO focused on a specific goal. Today, everyone wants to work with an NGO, it is desirable and people look upon those who working for something good.
There are many advantages and benefits of joining an NGO, it not also helps you brings in a considerable amount of change in the society, but also help you develop skills like- cooperation, team-management and empathy. Today, we are going to focus on the benefits of joining an NGO.
Life- changing experience-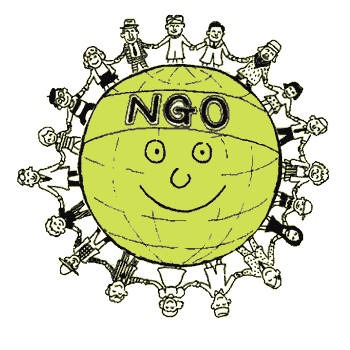 Like we said before, the whole experience of working with an Ngo is immensely fulfilling. You get a sense of satisfaction in yourself because you're doing something meaningful and fruitful. You work with equally driven and like-minded people who wants to change the society for good. This experience is extremely rejuvenating and it helps us grow as individuals. The mere fact that we are contributing something to the society, that we helping the disadvantaged class is very much empowering. The experience one gets from working with an NGO can change your personality in many good ways.
It creates more philanthropists who are ready to devote their time and energy for something good. Some people get so deeply attached to this experience that they entirely turn their profession into this. Many of them choose to forever work for an NGO, and go ahead take a degree in it. So, if you're someone who consider yourself to be driven by social-change, who wants to contribute something essential your society and if you see yourself talking against atrocities then NGOs are the best space for you. This experience enriches individuals with fruitful experiences, these experiences can influence many people around them. NGOs are a great way to do social services, and if you see yourself doing one in the future then don't think twice and join an NGO soon.
It boosts your CV-
Having an articulated and a well- versed Curriculum Vitae (CV) is extremely essential in this competitive job market. Unique and specialized CVs gives you an edge over the others. Curriculum Vitae, can be developed through many ways- you participate in many competitions, do tons of internships and gain experience, complete a few diploma courses to polish your skills. However, adding social services done by under an NGO will enhance your CV. Some colleges have explicitly made social service compulsory for students, the students are required to do certain hours of social service. This emphasis on social services given by many colleges clearly shows how important it is to work under an NGO. It also highlights its marketability and requirement in today's time. Therefore, if you're looking for ways to boost your CV, quickly enrol yourself in an NGO.
NGOs helps you gain valuable job skills-
If you're volunteering for an NGO, it will give you the opportunity to practice certain skills which are required in every valuable job. These skills may include- communication, teamwork, task management, organization, and problem solving. The skills you learn while volunteering can offer to different corporate organizations, these skills are very essential and every firm looks for these qualities while hiring. Therefore, NGOs plays a big part in shaping your career. It allows you to polish and redefine the skills you already have, so that you have use them for greater good.
NGOs allows you make new contacts-
Volunteering is a great way to extend your contacts and meet new like-minded people. NGOs have a sense of collective consciousness, where each and every individual are driven by a particular goal and they work as a team to achieve their collective goal. This strengthens your ties to the community and enables you to expand your network, exposes you to many people, moreover, allows you to develop your social skills.
Working for an NGO is a very wholesome experience. It benefits you in plenty of ways, and create diverse opportunities for you. It offers you a safe space, where you can help others and create an impact in your society.