First of all non- collegiate is basically for Girl students and it is known as Non-Collegiate Women's Education Board. This program is offered by Delhi government (DU) and there are 14 colleges that offers this program and they are converted into teaching centers for non- collegiate program. They offer undergraduate, postgraduate and extra courses under this. Admission is offered on the basis of cut-off list announced by Non-Collegiate Women's Education Board.
Colleges That Offers Non- Collegiate Programs
BHARTI COLLEGE
HANSRAJ COLLEGE
JANKI DEVI MEMORIAL COLLEGE
JESUS AND MARRY COLLEGE
KALINDI COLLEGE
LAKSHMIBAI COLLEGE
MAHARAJA AGRASEN COLLEGE
MAITREYI COLLEGE
MATA SUNDRI COLLEGE
PGDAV COLLEGE
SHYAMA PRASAD MUKHARJEE COLLEGE
SRI GURU GOBIND SINGH COLLEGE OF COMMERCE
VIVEKANAND COLLEGE
PG TEACHING CENTER
These are the 14 colleges that offers this program
Delhi University NCWEB Selection Criteria
The selection criteria for non- collegiate women education board is based on the merit list released by Delhi University. And, there are several programs offered by non-collegiate from which students can choose any of the program for pursuing their higher studies. One of the program is B.com in which admission preference is be given to students with commerce stream at 10 + 2 level. That means they must have subjects like accountancy and business studies in their 10 + 2 level. And, for other stream students they can get admission in B.com but with the deduction of 5% from the best four percentage.
Delhi University NCWEB Eligibility Criteria
We will talk about B.A (program) and B.Com. For these two courses only one vocational subject will be included in their best four.
The candidates who want to pursue these programs must have passed 10 + 2 exam with at least 40% marks.
And, for subjects like M.A / M.SC – they need Bachelor degree in any subject and students must have studied at least 3 courses each of one-year duration or 6 courses each of one-semester duration in Mathematics.
Delhi University Admission Process
The University of Delhi releases the application form on the admission portal of the University. Students who want to take admissions need to check their eligibility criteria for applying for any course. Check the details and process they have given for admission on universities website.
The steps you need to follow for admission process in Delhi University NCWEB are:
Online registration– Candidates can register through the admission portal of the university. Candidates can fill up their basic information and details in form provided by the University for Admission and candidates can apply for colleges they want through the application for given on university website. However the admission shall be given on the basis of merit list released by Delhi University.
Check Delhi University Cut-off- For the admission criteria, admission is given on the basis of merit list and for that Delhi University releases cut-off list for all the streams such as arts, science and commerce. If the candidates meet the cut off of the respective college and course then only he/she can participate in the further round of admission and on the basis of cut-off and merit list admission must be given.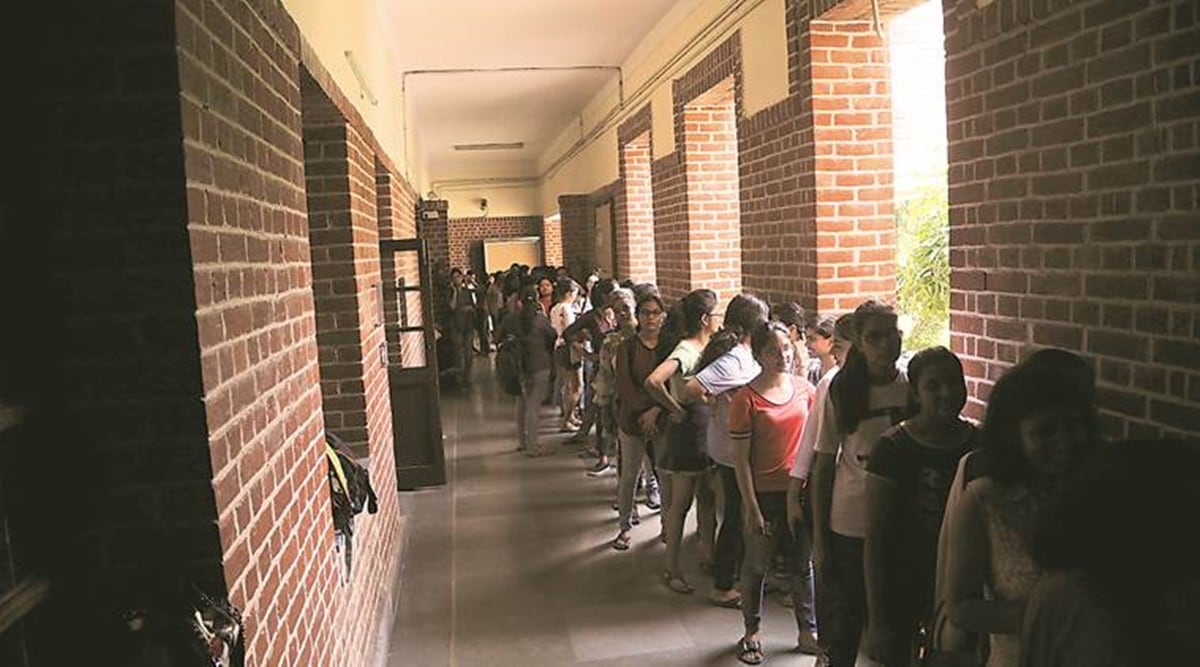 Document verification – After the declaration of cut off list, the candidates or students who got their percentage of marks matched with the college of their choice released cut-off list. They will be required to go to the college for document and certificate verification. The college officials will check you each and every document and certificate and they will match your photo copies of documents with the original one they will check either they are original or not. If your documents are original and checked properly then they fill forward you to the next step.
Fees submission – Once your documents are checked and submitted in the college then the admission is granted from that day you will became a part of that college or the faculty you have choose. Then after that students need to pay the applicable admission fees through the DU fees portal. They can also submit it in college by giving them and they can also pay online fees for their admission or by process their college have mentioned.
You may also be interested in-
Delhi University: Aptitude test for State board students