Chatham University being a private university in Pittsburgh was originally established as a women's college. Former names of the university were Pennsylvania Female College, Pennsylvania College for women and Chatham College respectively. The University was established 150 years ago, on December 11, 1869.
The University formerly being a women's college didn't start enrolling men until 2015. Thereafter the university started taking admissions of men in undergraduate programs. The university enrolls about 2,110 students, including 1,108 graduate students and approximately 1,000 undergraduate students.
Campus Details
The campus is located somewhere between Shadyside and the Squirrel Hill which comprises a beautiful residential neighborhood of Pittsburgh. The college campus covers approximately 39 acres of land. The Shadyside Campus includes Chatham Eastside, which now serves for the home of interior architecture programs and health science. The Campus Bookstore has officially become the on-campus destination for apparel, textbooks, fan gear etc. University's new 388 acre Eden Hall is located in Richland Township which is the home of the Falk School of sustainability and environment. One of the many Universities that have pledged to become Green Universities, Chatham University did not just become green but has also been constantly working to make the campus carbon neutral. Securing 5th position amongst the 25 Green Universities of America it is an officially recognized tree campus.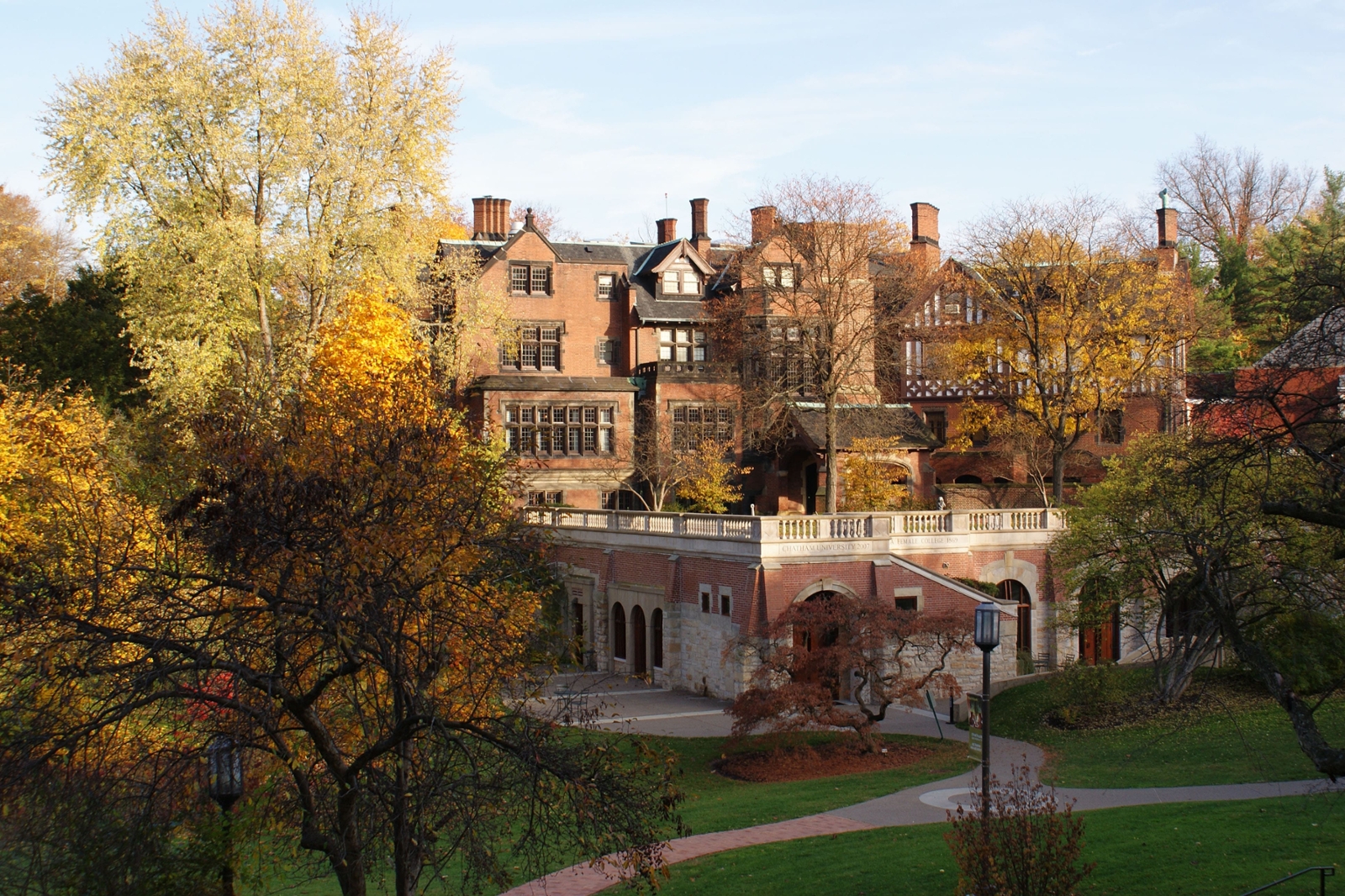 Academics
The university provides a structure which includes three distinctive study programs –
     -The College House's Academic and Co-curricular program for undergraduate women and women which profusely concentrates upon the traditions and rituals of the Traditional Liberal Arts College.
      -The College for Graduation Studies provides Master as well as Doctoral programs for undergraduate men and women. The program further includes studies which are centered into the stream of architecture, arts, business, teaching, health sciences and creative writing.
      -The College for Professional and Continuing studies, i.e., Post Graduate Program, includes Hybrid and Online Undergraduate as well as Graduate degree Programs for both men and women. These are certificate programs, and the community programming necessarily includes the Arts day Camp and Summer Music.
Bachelor's Program
The University provides its students with a wide number of Bachelor's Programs, from which they can choose what suits them the best. The areas of study includes biology/ biological sciences, psychology, registered nursing/ registered nurse, kinesiology/exercise science, communication and media studies, sustainability studies, interior architecture, business administration and management, criminology, elementary education and teaching, creative writing, marketing/ marketing management, chemistry, fine/studio arts, English language and literature, multi/interdisciplinary studies, social work, political science and governance, fine studio and arts management, management information system, biochemistry, Public Policy analysis, Economics, Accounting, mathematics and statistics, international/global studies, youth services/administration, history, environmental science, women's studies, conservation biology, neuroscience.
The graduation programs are highly buttressed with experimental and practical learning, not limiting the student's exposure; the programs are so framed to provide them the best possible practical and field knowledge. Wherein their students could showcase how effective their skills and knowledge is over the given subject and they are not only capable, but accomplished to their employers. The university provides small size classes, personalized one-to-one attention, mentoring, and doubt clearing classes to facilitate every child to the best of his learning.
Finest courses by the University
The above mentioned programs are based upon a broad and extensive field of study which is more or less generally found in other colleges as well. Chatham University stands out from the crowd with some handful courses which tend to provide immense assistance to the students who endeavor themselves in these courses.
Master Of Occupational Therapy Degree Programs
The curriculum is preferably based on critical thinking and reasoning, didactic courses, evidence based practical applications, professional growth and development. The study is based on human anatomy, OT assessment and intervention, fundamentals of neuroscience and OT performance in children, aging patients and adolescents. Chatham University secures 13th rank when it comes to the Best Medical Degree Colleges in America. It provides its students with Level IIA and Level IIB practical and fieldwork experience. Occupational therapy is among one of the top healthcare careers with an estimate of 27% job growth and annual, median salary of $80,150.
Online Interior Design Degree Programs
Interior designers have more diverse and versatile careers than one may comprehend. Someone who has mastered Interior Designing could seek employment in small initiative start-ups as well as at large corporations. The university provides a Master of Science in the Interior Architecture Designing course which is available through online sources. In addition to this the university has also framed the course in a blended format exclusively for the offline credentials. The program could be taken in both full-time and part-time pace, based upon the students needs. The median salary for this field could range anywhere from $49,000- $91,360 per year.
Best Online Strategic Management MBA Degree Programs
The University of Arts, Science, Business features this 100% online MBA with an imperial concentration over Entrepreneurial Leadership and Strategy. The 36 credit-hour program  is accredited by IACBE which is entirely online. The Prior Learning Assessment could enable the students to earn graduate-level credits. In the 21st century the business operation has changed to an entirety, thus to stay updated and competitive the professionals must set themselves apart. One great way to stand out in this business plethora would be having the degree of Master's of Business Administration.
Rankings
      -The University is known as one of the Best Value Colleges in America secures 6th Rank in the same.
      -Ranks 12th for providing the best Online Strategic Management MBA Degree Programs.
      -Secures 13th rank when it comes to the Best Medical Degree Colleges in America.
      -Is in 5th position when the Greenest 25 Universities of America are called.
      -Ranks 6th in providing an Online Interior Designing  Degree Program.
      -Ranks 7th for providing Online Architecture Degree.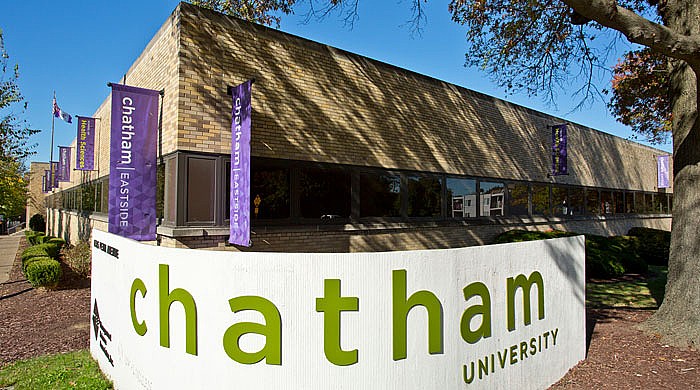 Admission Requirements
The University expects the candidate to meet their requirements for GPA and ACT/SAT scores, but these are so set, that they are more flexible than other universities. Where most of the universities demand a GPA of 4.0 our University has set its minimum requirement for GPA to be 3.67. If someone cannot make it to the minimum requirement of GPA he/she could always showcase their higher SAT/ACT marks to compensate.
Conclusion
Chatham University with a motto 'that our daughter may be cornerstones, similitude of palace' was established about 150 years ago, much notable alimony such as Rachel Carson, Lea Wait, Kathie L. Olsen, Becky Corbin hail their higher education from our esteemed university. Where every college pledge to be carbon neutral, the university has made it a reality, with excellent rank from almost all the spheres, the college provides a huge campus for our student's convenience and also a blend of renowned courses have been made available to the students. With the admission requirements set low it provides its candidates optimum opportunity to educate themselves and lead a glorious life ahead.