Hotel Management is a course that teaches you details of operations of hotel management. The skills that you learn in the hotel management course are problem-solving, accounting, financing, Strategic management, marketing, and the list goes on. Many people have heard about the courses, but many fewer people know about the hospitality management course. Hospitality management is broader than hotel management. It teaches you about various other industries such as hotel management, tourism, traveling, and hospitality. This article is going to talk about the top 8 hotel and hospitality management universities in the USA. This article will talk about details about the admission process, fee structure, and academics.
SC Johnson School of Business (Cornell University)
The School of Hotel Administration at Cornell University has earned rank 1 many times. Its hotel management is the best among management schools in the USA. The university offers need-based financial aid to its students. The university uses a holistic approach for admissions. It looks at your academic achievements, leadership skills, exposure to hospitality, and interest in their program. They also look at the SAT or ACT scores of their candidates. There is no specific requirement for a certain score. For international students, IELTS and TOEFL scores are also seen. They look at the application holistically and exam scores are also a part of it.
William F Harrah College of Hospitality (University of Nevada)
Located in Las Vegas, the University of Nevada's hotel management program is among the top 10 best affordable programs in the USA. It offers B.Sc. (Hospitality Management) for undergraduates. The program makes you job-ready through the best summer internships. You can also learn interesting courses such as Gaming Management, Restaurant Management, and Sports Management. It also offers hotel management courses at the master level. The college offers both merits and need-based financial aid. Past Academic records and SAT/ACT scores of 1120/27 are requirements for admission.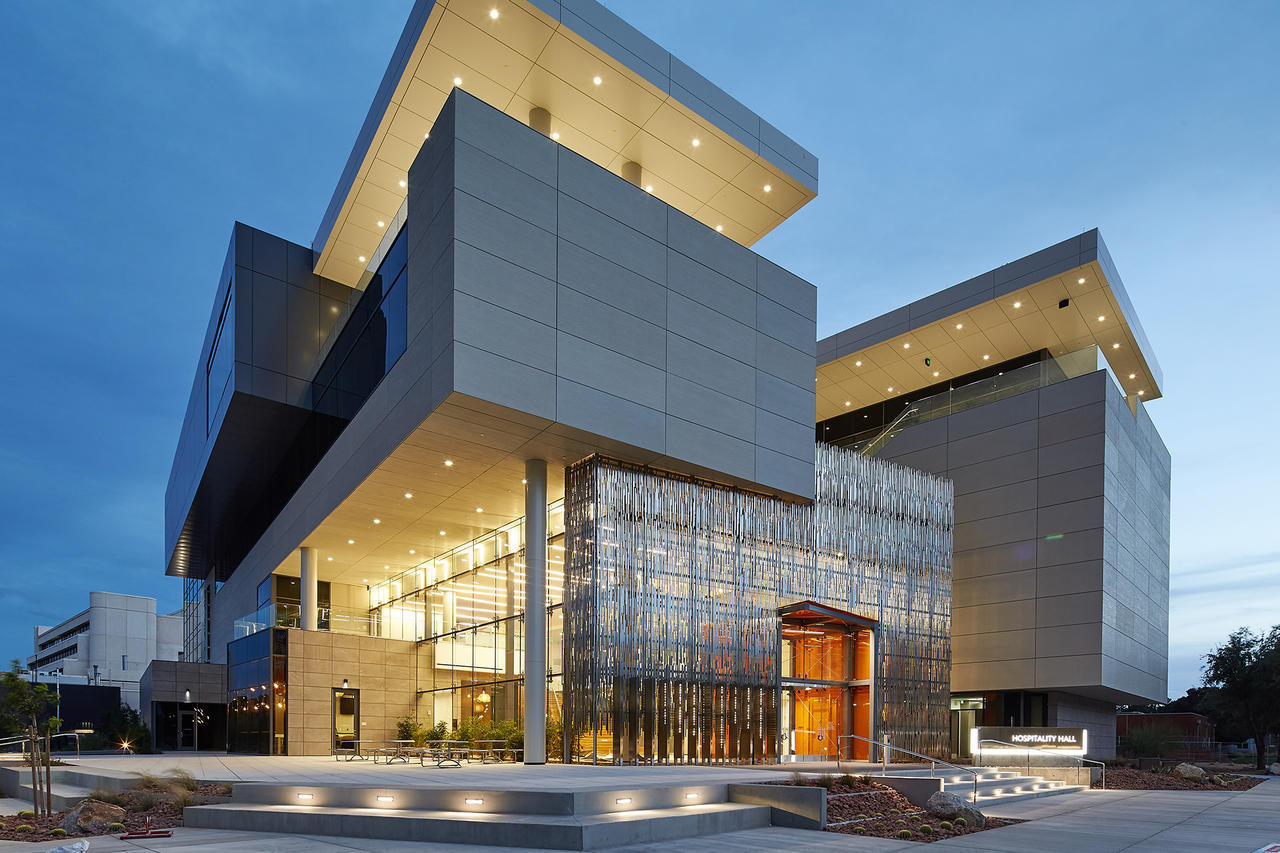 Isenberg School of Management (University of Massachusetts)
Located in Amherst, the University of Massachusetts offers an undergraduate degree in Hospitality&Tourism Management. The course will teach you about industry-specific areas such as Club Management, Food Management, and Event Management. They offer first-hand industry experience as well with internships. SAT/ACT exams are requirements for high school students. For international students, English Proficiency tests are a requirement. IELTS/TOEFL. A minimum composite score of 6.5 in IELTS and a minimum TOEFL score of 80 are requirements. The college offers grants, loans, scholarships on a case by case basis.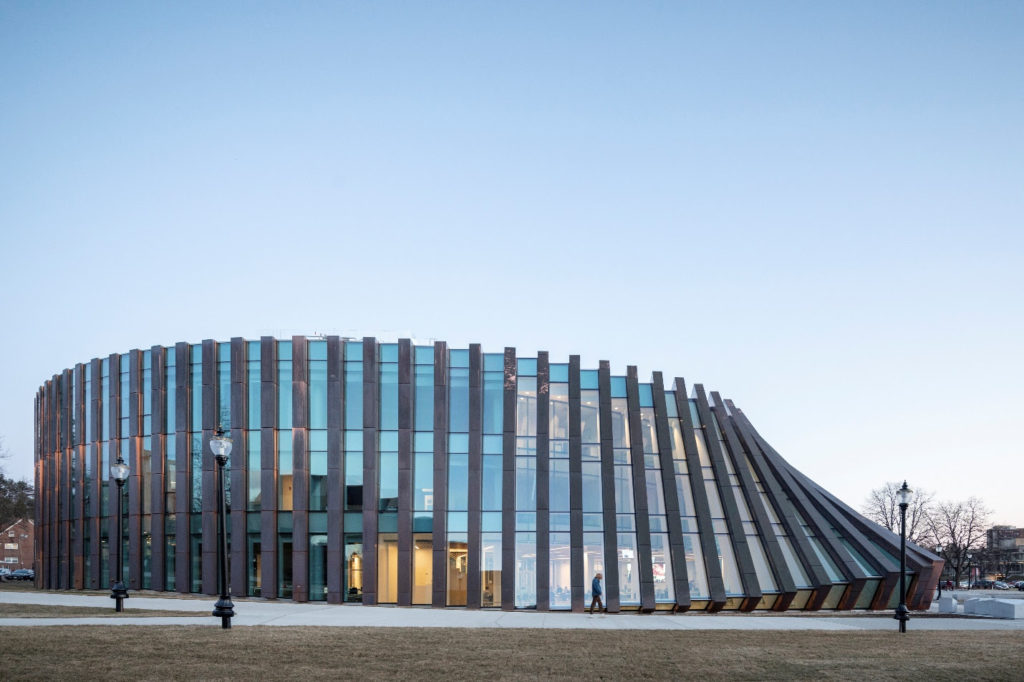 University of North Texas, Denton, Texas.
The University of North Texas (UNT) offers a program called Hospitality Management. The program is designed to provide you the experience of the industry. You will do many paid internships in this course to understand the industry closely. It will teach you marketable skills such as strategic management or analyzing financial statements. The Admission requirements are good past academic record and SAT/ACT scores. The Minimum SAT score is 1030 and the minimum SAT score is 20. The admission process is holistic. They also look at your achievements, leadership skills, work experience (if any), and extra-curricular activities. The college offers financial aid and also helps you find student employment opportunities.
Broad College of Business (Michigan State University)
The School of Hospitality Business at Michigan State University. The hospitality program was ranked 6th best hospitality in the country. The program teaches you details of management. It makes you ready for roles such as event planning, human resources, marketing, real estate, and so on. The management degree teaches you about many industries. You will do two paid internships in this course. The admission looks at your academic record and non-academic aspects as well. Non-academic aspects can include leadership skills, extracurricular activities, etc.
Chaplin School of Hospitality& Tourism Management (FIU)
The Chaplin School of H&T management at Florida international university is among the best value school in the USA. Its program is the best in terms of return on investment. It offers B.Sc. in Hospitality and tourism management. It also offers integrated masters with bachelor's which is a five-year program (4+1). The school has a 92% placements rate. SAT/ACT scores along with past academic records are requirements. For international students, English proficiency tests of IELTS/TOEFL are required. The university offers need-based financial aid. Students can also reapply in the next academic if their financial situation changes. The university offers grants, loans, and scholarships on both merit and need.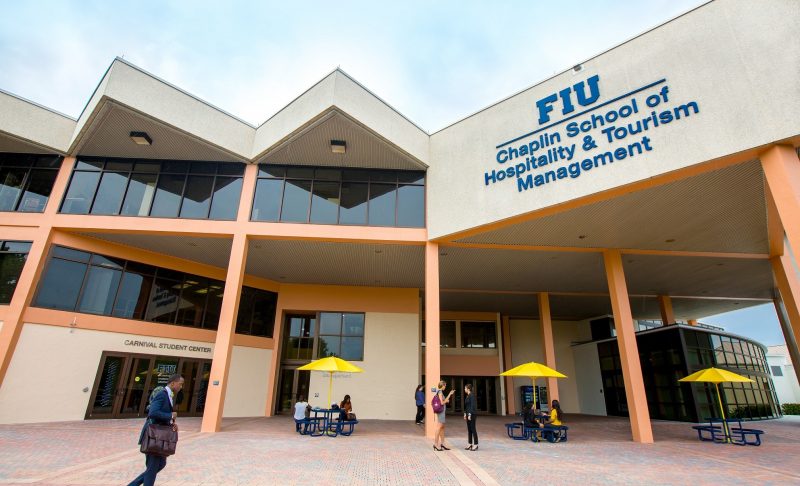 Rosen College of Management (University of Central Florida)
Rosen college of Hospitality Management offers various courses at the undergraduate level for hospitality management. Some of the courses are Bachelor of Science in Entertainment Management, Bachelor of Science in Event Management, Bachelor of Science in Restaurent& Food- Service Management. The list of courses is longer than this. The college similar degrees at the master level too. Students can get financial aid through loans, grants, scholarships, and fellowships. The aid can be both need-based and merit-based. Past Academic records and SAT/ACT are requirements for admission. The admission is competitive and the cut-off is based on the number of people applying.

Also Read: